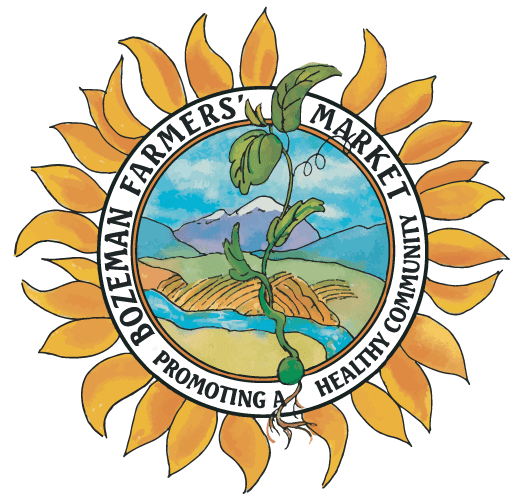 Become a vendor in Bozeman's own Farmer's Market! The market is a place for
families and friends to gather, socialize, support local and share in a fun-filled
community environment! The Market Creatives commit a portion of the Markets
revenues to the preservation and improvements of all Bozeman Parks.
Tuesdays, June 16th – September 8th, 2020
Set-up starts: 3pm
Market Hours: 5-8pm
Market Location: Lindley Park, 900 East Main Street, Bozeman, MT
How to Join

Interest
We accept applications year-round for new vendors at the market.

Application
Please fill out the application below or contact us for more info.

Review
We will review and make sure that your service is a good fit for the market.
Want to Fill In?

Market Day Lottery
Names drawn from a hat the day of the market to fill empty booths.
Market Day Lottery: On Tuesdays, starting at 3:30pm, we start taking names. Each person writes their name and cell # on a piece of paper and puts it in the "lottery basket". Then, starting at 4:00pm, we draw names from the basket and assign available booths. You will need to be in attendance at 4:00pm to receive a booth. Please understand that there is no guarantee that all lottery participants will get a booth. Every day is different and is dependent on how many people apply for the lottery that day and the number of last minute cancellations we have.
Please make sure you have the Vendor Contract Form all filled out.
Please Read
To make sure that you qualify for the market, Please read each of the following sections.
| | |
| --- | --- |
| Market Fees | |
| Attendance | |
| Parking | |
| Setup | |
| Take-Down | |
| Food Vendors | |
| Other | |
| Terms & Conditions | |